CGUST, NCHC and MEdiCloud signed the new media education cloud project of virtual clinical nursing circumstance (臨床照護虛擬護理情境新媒體教育雲專案)
2020-12-02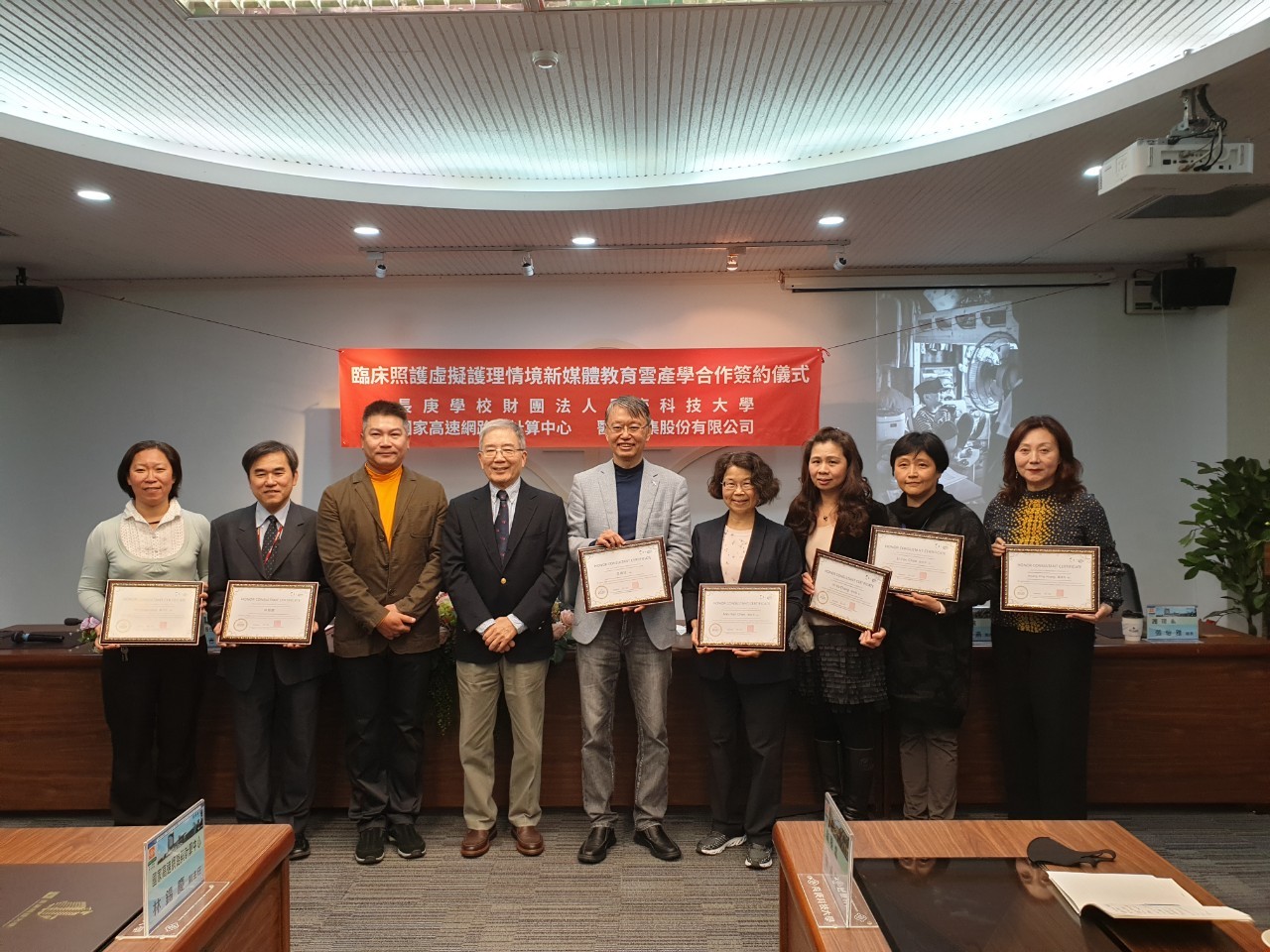 Chang Gung University of Science and Technology(CGUST), National Center for High-Performance Computing(NCHC) and MEdiCloud signed the MOU in 2020. Trilateral representatives agreed to collaborate in the new media education cloud project of virtual clinical nursing circumstance (臨床照護虛擬護理情境新媒體教育雲專案). Combine CGUST's abundant academic research resources, nursing and healthcare practical teaching experience and professional project integration management capability, with NCHC's precise image identifying technique as well as MEdiCloud's VR lesson plan developing platform. Afterwards, build digitalized new media teaching platform and systematic intelligent lesson certification system. Through technology with empowering education, increase education efficacy, construct VR nursing simulation new media project mechanism for clinical healthcare. We want to combine schoolteachers' multiple knowledge with MEdiCloud's practical experience of technology industry, and then introdice digitalized technology resources to provide more effective solutions to the need of medical education. By building up the diversified learning platform for students, encourage more aspiring learners to devote to healthcare industry, and extend abundant, innovative, creative learning strategies or learning networks.
The signning ceremony was held in CGUST. Trilateral representatives, the principal of CGUST, 樓迎統, the director of NCHC, 史曉斌 and MEdiCloud's chairman, 劉康吉 signed the project. CGUST keeps focusing on technological and vocational education, emphasizing that students should be equipped with "basic skills, professional competences and pratical techniques", and then apply what they've learned. Implement the promotion of "learning-by-doing". Focus on healthcare as the core of education development. Actively construct "premium healthcare teaching typical University of Science and Technology". CGUST owns excellent teachers and teaching environment. Also, recently, CGUST invests a lot of funds, manpower and resources in teaching equipment and environment. For example, build up various kinds of simulation labs and virtual medical education hospital with abundant novel equipment to strengthen students' clinical practical techniques. CGUST has spent several years enhancing the characteristics of technological and vocational education and cultivating outstanding high level healthcare talents. Alumni from CGUST have the excellent performance in their positions, which meets the need of our society. In these two years, teachers from department of nursing at CGUST put a huge amount of effort into interdisciplinarily developing innovative VR lesson plans, and have produced over 15 cases. These cases are applied in the class to help carry out innovative teaching practice plan. As a result, exhibit the highlight of the latest intelligent education. Look forward to spur the reserach and development of nursing, geriatric healthcare and the innovative application, which will be the contribution to the society.
After the signning ceremony, MEdiCloud also appreciated those pioneers for devoting their specialties to the project by awarding teachers and superiors, who dedicate themselves to combining technology with education, honor counselor certificates.
---
---